Approach to Social Contributions
We believe that education shapes our children's future, and that shaping our children's future means shaping our society's future. With the purpose of solving social issues, we create a learning environment that is truly beneficial to children's education and opportunities to overhaul students' skills, all while raising the quality and value of the company's business.
Creating Shared Value (CSV)
CSV for Orphanages
To eliminate disparity in education, we use CCDnet to offer our company's meticulous teaching to orphanages across Japan. Through interaction with competent student instructors, we want to help shape orphans' social emotions and social cognitive skills.
Response of Enrolled Students
※Questionnaire results from orphans after taking lessons
Result from taking lessons
"Easy to understand and satisfying"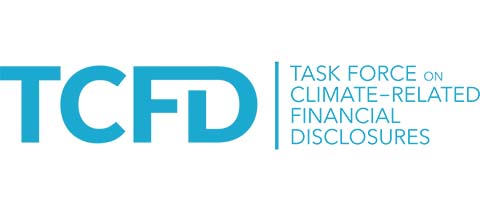 Assistance Solving Community Issues
In the Comprehensive Survey of Living Conditions released last year by the Ministry of Health, Labour and Welfare, the poverty rate of Japan's children (measured as the relative poverty rate) was 13.9% in 2015. This was a drop of 2.4% since the record high of 16.3% was recorded in the 2012 survey, but this is still high among major countries and the majority of single-parent households are in a state of poverty. We see child poverty as a very serious issue and we are working with local organizations to help solve issues.
Start Accepting Test-Takers from Adachi Base Project by Approved NPO Katariba
Academic Path Guidance
Test-Taking Guidance
Approved Specified Nonprofit Corporation Kataribahttps://www.katariba.or.jp/
Corporate Social Responsibility (CSR)
Support for Student Organizations
BEYOND YOUR DREAM
Reach Beyond Your Dreams
Reaching beyond your dreams means finding yourself on the other side of your dreams, rather than placing limits on yourself. We want to be a platform that perceives and shares the moment when young teenagers and 20-somethings have dreams in their sparkling eyes, thus connecting them with the ones who can support them in their endeavors. Tokyo Individualized Educational Institute is a friend who understands university student dreams and helps make them come true.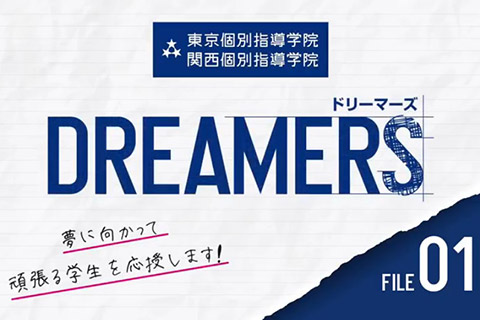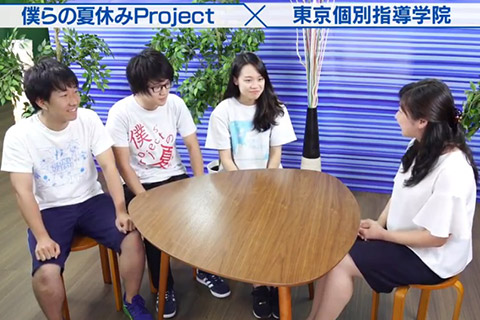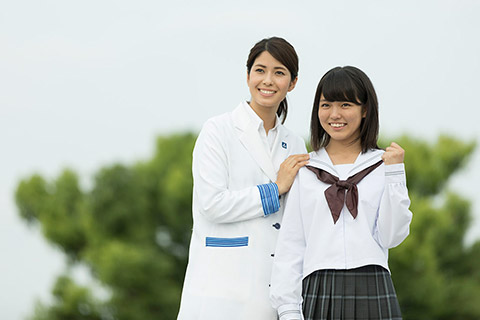 Support for High School and University Overseas Study
Tokyo Individualized Educational Institute provides educational services to children, primarily through individualized teaching. As globalization further accelerates and technological innovations arise in various fields, it will become more difficult to predict the future of our society. Accordingly, we believe that there will be a universal need for children to have the skills to decide who they want to be, set goals, work hard to achieve them and pave their own future. In addition, we believe they will need to have a global awareness with an understanding and respect for other cultures if they are to be successful in the wider world.
Tobitate! (Leap for Tomorrow) is a campaign to encourage Japanese students to study abroad. With cooperation between the public and private sectors, the program was launched in 2013 under the administration of the Japan Student Services Organization (JASSO) and the auspices of the Ministry of Education, Culture, Sports, Science and Technology (MEXT). The goal is to provide all ambitious and competent young Japanese with the opportunity to study abroad. The project is not run solely by the government; it also receives support and donations from private companies.
Tobitate! (Leap for Tomorrow) seeks to form communities that cultivate the global talent who can succeed in our future world. As a program that brings the public and private sectors together to cooperate in cultivating global talent in Japan, we agree with what it does because it coincides with Tokyo Individualized Educational Institute's ideal of the talent we seek to develop.
That is why we offer monetary assistance and other support the work of Tobitate! (Leap for Tomorrow).
Through this program, students can go overseas with lofty aspirations in an enriched study abroad experience, with the expectation that they, as global talent in a true sense, can become the leaders of progress in Japan and the wider world.