Medium-Term Management Plan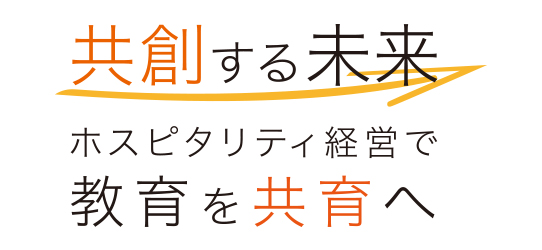 Background behind the New Medium-Term Management Plan's Formulation
The prep school industry has to adapt to a changing business environment where reforms to university entrance exams and amendments to Japan's school curriculum guidelines are coming in 2020. Other major changes on the horizon include intensified competition to recruit students caused by a falling birthrate and aging population, coupled with greater difficulty in hiring competent personnel as the labor force shrinks.
Tokyo Individualized Educational Institute formulated "To Go for the NEXT: Hospitality Management 2020," our medium-term management plan for the three years until FY2021 (through February), to advance to the next stage of growth by overcoming changes in our business environment.
Hospitality Management 2020
Since our founding long ago, the Company has valued hospitality. We define hospitality as a way to achieve mutual satisfaction by providing services with added value that go beyond and above what customers want and by growing together with our customers. We characterize hospitality management as management that achieves sustainable growth by using the vitality of our employees engendered by hospitality as our greatest management resource.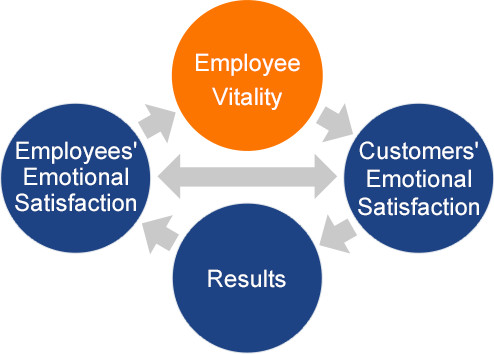 Growth Strategy Overview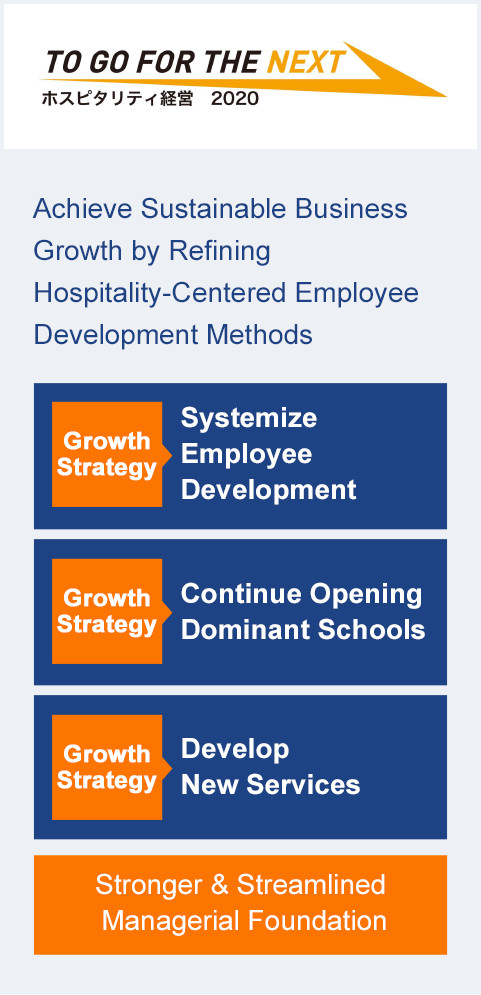 Growth Strategy1 
Systemize Employee Development
Hospitality Training
It is people who create the value of our company's business. The quality of the instructors interacting with our students on a daily basis determines the quality of service. Heads of schools go through management training to foster facilitative leadership to draw out independence in the form of hospitality, while leading instructors go through leadership training where they go through the PDCA cycle as a team. These two programs are the core of our systemized training to boost the level of hospitality.
TEACHERS' SUMMIT
A Co-Creation Program to Learn and Create Together through Hands-On Practice
The Teacher's Summit is a co-creation program where all schools from both Tokyo Individualized Educational Institute and Kansai Individualized Educational Institute come together to learn and create together through hands-on practice.
It starts with the Annual School Plan, a one-year action plan that heads of schools and instructors produce in April. Each school forms a single team, where different people help each other and stimulate each other intellectually for the sake of our customers. This is how we refine our hospitality for the individual. We apply the PDCA cycle to the Annual School Plan throughout the year. Instructors learn communication skills, independence, leadership and more by putting the plan into practice in their work. Heads of school and assistant heads of school extend their management skills by supporting instructors. Everyone who joins in the Teachers' Summit grows.
Our year-long activity cycle includes gatherings in each region such as the Kickoff Meeting, the Midterm Briefing and the Final Briefing. These are knowledge-sharing opportunities. By learning from each other about other schools' initiatives and action to do better, schools can make each other's plans better. At the Final Briefing, instructors vote on the school that learned the most. This school serves as the Regional Representative School.
In March, we hold grand general meetings at event halls in Tokyo and Osaka, where Regional Representative Schools give presentations. The instructors participating on this day (around 2,000 in the Tokyo metropolitan area and 1,000 in West Japan) vote to decide the Best Practice School that is above all others. Thus, the full-year program comes to a close.
View Teachers' Summit news
Growth Strategy2 
Continue Opening Dominant Schools
Goal: Open Eight Schools Annually as Dominant New Schools

As in 2017, we will continue opening dominant schools with a goal of eight new schools a year, primarily in urban areas where the population continues to concentrate.
Growth Strategy3 
Develop New Services
Handling Four English Language Skills Ahead of 2020 University Entrance Exam Reforms
By combining our individualized teaching knowhow with the online English conversation technology developed by Benesse, we will establish a method of approaching four new English language skills to guide students until they take qualification exams.
We meanwhile plan to introduce online English conversation lessons at all schools during FY2018. In addition, efforts are underway to utilize the Benesse Group's synergies for creating courses with an eye toward the amended school curriculum guidelines coming in 2020.
Roll-Out of Regularly Scheduled Programming Courses
We received excellent customer feedback when we ran the Programming Course, an optional summer class during the 2017 summer course period at Benesse Science Labs. We are considering creating a regularly scheduled course with an eye toward the amended school curriculum guidelines coming in the 2020 school year.
Medium-Term Management Plan Performance Targets
We have formulated a new medium-term management plan covering the three years through FY2020 (FY2021 (through February)). Through this plan we seek to establish a stable and sustainable foundation for growth while raising the enterprise's social value.
| | FY2017 Performance | FY2018 Plan | FY2019 Plan | FY2020 Plan |
| --- | --- | --- | --- | --- |
| Net Sales | 19,175 | 20,100 | 20,400 | 21,200 |
| YoY | +1,266 | +925 | +300 | +800 |
| Operating Income | 2,634 | 2,730 | 2,790 | 2,875 |
| YoY | +329 | +96 | +60 | +85 |
| Operating Income Margin | 13.7% | 13.6% | 13.7% | 13.6% |
| YoY | +0.9% | -0.1% | +0.1% | -0.1% |
※We have revised up our earnings forecast for 2018 on October 3, 2018.
Profit Return Policy
1. Sustain a dividend payout ratio of at least 50%.
2. Return profits to shareholders while taking into account such matters as future performance trends and post-2020 investment strategies.